TONY EVANS | Building kingdom disciples.

TODAY'S SERMON from Tony Evans
---
Knowing God CD Series AND Power of Knowing God Study DVD AND Power of Knowing Good Study Guide AND Book
TODAY'S SERMON from Tony Evans
Jehovah Nissi: The Lord's Banner of Victory
Exodus 17:8-16
For too many people, there is "church life" and "real life"—two different realities that weaken our faith and perpetuate our problems. Join Dr. Tony Evans as he explains how that can change when God becomes our "banner of victory." It's a look at what happens when the Lord's power invades our earthly situation.
---
---
In a time when national divisions and church divisions seem to be at an all-time high, we need to be reminded of what builds unity and helps us come together in righteousness. Discover how you can respond to God's call for unity and help turn our nation back to God.
Get Yours 👉
---
---
Our Thanks for Your Gift
Draw closer to the Lord in a transforming way as you discover the power of God's names! Along with the 2-Volume Knowing God's Names CD series, we want to send you Tony's devotional, Experience the Power of God's Names. Request both with your gift.
---
As Seen on TV
Join Dr. Tony Evans as he examines the heroes of the Bible and their powerful journeys of faith. As thanks for your generous gift, we will send you the 2-Volume Heroes of the Faith CD and MP3 series and Tony's brand new book and Bible study, Kingdom Heroes.
---
STEP UP TO GOD'S CALL
HE HAS BIG PLANS FOR YOU
Oneness Embraced
May we do our part to help bring people to a spiritual, biblical view of race. Explore more on unity, history, and cultural impact in Oneness Embraced.
---
Get a Copy 👉
Other Resources on Race 👉
Bible Study at Your Speed
The Tony Evans Training Center offers website and App access to dynamic Bible study courses such as: Kingdom Man, The Gospel of John, Evangelism and many more!
Get Started
Lois' Legacy
Dr. Lois Evans lived life on purpose with a God-given purpose. The integrity of her heart and the skill of her hands left footprints that are indelibly etched into the life of The Urban Alternative.
Learn More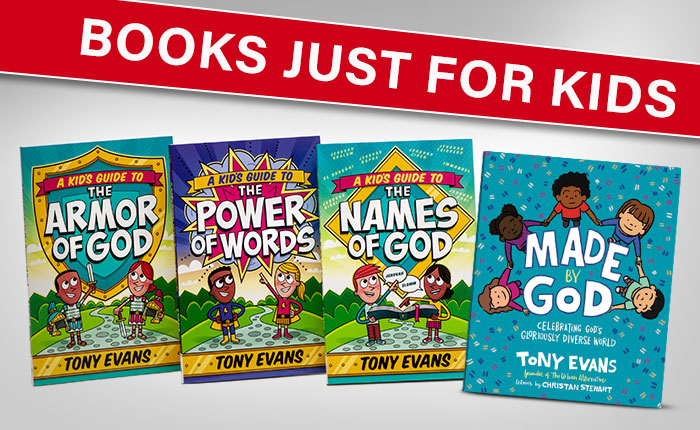 Powerful tools to help children connect with God and the Bible.
Learn More
---
---
Verse-by-verse insights on the entire Bible from Dr. Evans.
Learn More
---
---
---
---
Could you use a bit more hope? We know. Life can be hard. You need a place where you can find wholeness again. Happiness. Even strength. That's why we're here. Walking with you on this journey to your destiny. for you: